AK 46 Hydraulic Core Drill
AK 46 is a professional hydraulic core drill for manual use or for installation on drill rigs. the drilling capacity is 30 - 160 mm diameter depending on model or flow. Tool mounts standard diamond core bits for wet and dry drilling of concrete, reinforced concrete, natural stones, bricks and masonry materials. The hydraulic functioning and the superior characteristics assure a series of advantages not obtainable together from other systems: efficiency and versatility tool can be powered by small power packs or from the hydraulic circuit of mini excavators or other hydraulic machinery. the absence of vibrations assures the ideal durability to the diamond bits. Unbeatable power to weight ratio with a weight of only 8 kg AK 46 has a power that is nearly triple of that of a similar electric tool, thanks to the small dimension is unbeatable when working in confined spaces. the robust hydraulic motor is invulnerable to all efforts or slow down or blocks of rotation that would burn in short time motors of equivalent electric tools. Safety and quietness the hydraulic functioning is an Implicit guarantee of quietness and safety, the tool can work in complete water immersion without risks of risks of electric shock. Reliability and durability of AK 46 assure a long operative life without problems also with the harder application.
Characteristics And Advantages:
Equipped with safety valve that shuts off completely the torsion force when the bits get blocked in the material, the valve avoids accidents, limits the " kick " and defend the tools when it is connected to machines with excessive pressure
Ergonomic handle insulated with injected high resistance poly urethane assures perfect grip and resists to all impacts and wear
Construction with stainless steel , er-gal and anodised aluminium to guarantee durability and resistance to rust and corrosion
Exclusive adjustable back handle coated with soft rubber that guarantees comfort and easy use when pushing with the knee , chest or shoulder
Equipped with adjustable side handle that helps control and penetration force
On/off trigger with "lock on" devise for use with drill rigs
Equipped with level eye for assuring orthogonal holes
Ideal for underwater works
Technical Data
| | |
| --- | --- |
| Weight | 8 Kg |
| Weight With Back Handle | 9.5 Kg |
| Length | 40 cm |
| Width | 9 cm |
| Height | 32 cm |
| Distance From Spindle Center To The Wall | 4.5 cm |
| Hydraulic Flow | 20-30 l/min |
| Hydraulic Pressure | 150-170 Bar |
| Bit Attachment | 1-1/4' Standard |
| Drilling Capacity | mod G 60-150 mm |
| Speed | mod G 400 RPM @ 20l/min - 600 RPM @ 30 l/min |
Features
Click to enlarge images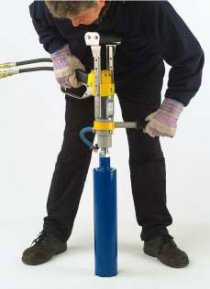 AK 46 Hydraulic Core Drill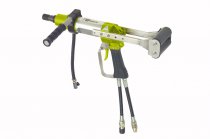 AK 46 Hydraulic Core Drill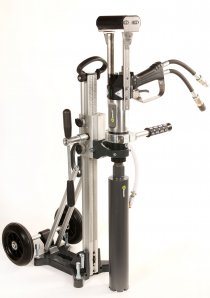 AK46 mounted to drill stand.