DustBuddie® Dust Control Shroud for Hand Grinders
DustBuddie® Dust Control Shroud for Hand Grinders
Pro's #1 choice for dust control when using a grinder
Easy to install with integrated universal adaptor
Fits most hand grinders
Captures up to 99% of airborne dust
Clear polycarbonate for improved visibility
Grind against walls by removing the front lip - snaps right back in place
Brush skirt provides support for a smooth, cushioned grinding action
Adjustable height for different grinding wheels and sanding discs
Meets EPA RRP guidelines for lead paint when attached to a certified HEPA vacuum
Protects Workers' Health and Eliminates Cleanup
The DustBuddie dust shroud helps protect workers' health, and saves time and money on cleanup. Eliminate the hazard of airborne particles by controlling dust before it enters your environment.
Meet EPA guidelines for lead paint removal in renovation projects
DustBuddie is a point-of-origin dust collection tools that complies with EPA regulations covering lead paint removal.
Fits Most Grinders
The integrated universal adaptor fits most hand grinders and installation is very quick and easy. Simply remove the existing guard from the grinder, slip on the DustBuddie, tighten the band clamp, adjust the height, if necessary, and you're ready to start your work. Three adjustable spring screws control the height of the DustBuddie so you can quickly accommodate different grinding wheels and disks.
Make Grinding Easier
The DustBuddie rides on a set of springs, along with a brush skirt, which provide support to relieve operator fatigue, but also help keep the shroud flat so dust does not escape. Make of durable clear polycarbonate, the DustBuddie is very durable and provides superior visibility for optimum control of the tool.
Grind Against a Wall
The front lip slides out so you can use it against a wall. It also snaps back into place for a quick return to work.
Technical Data
| | |
| --- | --- |
| 5" DustBuddie D1835 Fits 4" to 5" Grinders, Fits 1.5"- 2.25" collars 7" DustBuddie D1850 Fits 6" to 9" Grinders DustBuddie Chart | |
Features
Click to enlarge images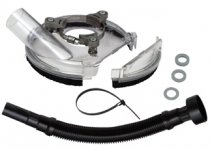 Dust Buddie Components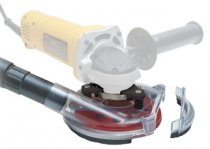 DustBuddieŽ Dust Shroud The DustBuddie is the pro contractor's #1 choice in dust shrouds because of its removable front lip for grinding up against walls, and its brush skirt which aids in dust collection. Fits all grinders with ease.