Battery powered Trowel
A battery power trowel for resin-based floor coatings with coloured granules, and floorings of natural stone.
Included: Machine part, control handle, 1 trowel disk (diameter 500 mm), 20 trowel blades (installed),
removal and attachment key for trowel disk.
3 battery belts with batteries and 2 charges are also included.
Features
Click to enlarge images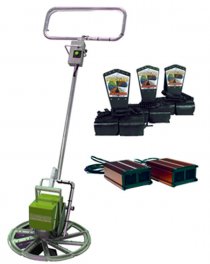 Battery powered trowel
Machine part, control handle, 1 trowel disk (diameter 500 mm), 20 trowel blades (installed),