DustBull & Universal Mounting Kit D1765
Some people buy a saw just for the included shroud. Don't buy a new one—use the saws you already have. If you rely on one saw or many, you don't have to worry about buying a new saw for dust containment. The DustBull is meant to fit most gas powered cut off saws. Included with the DustBull is a bolt kit meant to fit many models from a variety of manufacturers. It attaches to 2" hoses using a 2" soft hose cuff.
When using a vacuum system of 260 CFM or more, the DustBull captures nearly all dust generated while sawing. Using vacuum suction, the dust and debris are caught in their natural trajectory, giving you a truly dustless work environment. This saves you and your workers from breathing harmful silica dust while keeping the area dust free, saving time and money in cleanup.
Four mounted feet protect the shroud and the surface you are working on. The shroud will sit evenly to reduce strain on the worker, allowing you to rest the saw and the shroud on the ground. When working on sensitive surfaces you can be assured that the shroud will not scratch or scrape decorative work.
In September 2017, strict laws passed and enforced by OSHA go into effect limiting silica dust exposure. Penalties and fines can be severe. When used with a 260 CFM vacuum system the DustBull is compliant with OSHA and EPA laws, keeping you and your workers safe from legal action and protecting you from harmful diseases caused by silica exposure.
Vacuum shroud used in dust containment while using gas powered saws for masonry work
Captures up to 90% of concrete dust
Fits most gas powered cut off saws
Made of aluminum for rugged durability
Rubber feet protect the work surface
Connects to a 2" soft hose cuff
Complies with OSHA silica laws and EPA Regulations for point-of-origin dust containment
Requires a 260 CFM vacuum system for full containment (2 wet dry vacuums or one industrial vacuum)
Technical Data
| | |
| --- | --- |
| Dimensions(LxWxH) | 533.4 x 279.4 x 279.4 mm |
| Weight | 2.7 Kg |
| Port Size | 50.8 mm |
Features
Click to enlarge images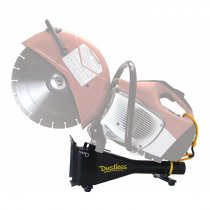 DustBull & Universal Mounting Kit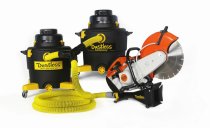 DustBull & Universal Mounting Kit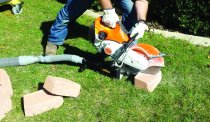 DustBull & Universal Mounting Kit