Other Resin Polishing Pads
Traxx offers a complete range of resin polishing pads for all types of machines and applications.
We also offer a full range of backer pads, rigid and flexible, velcro backed, to suit all hand held machines.
Bonds available for Concrete, Marble, Granite and Terrazo polishing.
Special design lippage pads for uneven surfaces also available.
Features
Click to enlarge images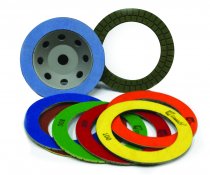 Resin Ring Pads
Great for edge grinding of concrete and most masonry. Available 6" and 7" diameters and 50-300# mesh.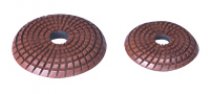 Lippage pads for Concrete, Granite, Marble and Terrazzo